Yesterday and today I am just feeling a little blah!!! I hope I'm not coming down with a sinus infection or something. I just feel
sooooo
lazy, tired, and quiet!! I have a headache behind my eyes so it probably is my sinuses!!
UGHHHHHH
Better start taking some
meds
.
On the other hand, the weekend was great!! Well, Friday night,
Kylan
spent the night with
Granna
and Pappy and Scott went out with Robert so I had the house all quiet to myself!!! It was so nice! I played around on the computer trying to figure out how to decorate this blog but didn't get very far. I made a thing with pictures that would be a great header for this but I just can't figure out how to make it fit the page. It comes out small like this.....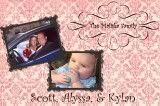 or even smaller!!
Hmmmmmmmmmmmm
, I am just
sooooo
ready to pay someone to decorate it for me but it's so expensive!
On Saturday we went to a carnival, wasn't really a carnival because there was no rides, with
Granna
and
Tay
-
Tay
(as
Kylan
calls her) because Taylor had to help work a booth with her softball team. It was fun and HOT!! Here are a few pics....
On the way there...

Riding on Daddy's shoulders....
Looking at the Pony....
Feeding the animals....
Not to crazy about them crowding around
Kylan
....
Let's just say I picked them up after that!
LOL
Granna
paid for Taylor to get arrested....
We had fun sliding....
After went down the slide a couple of times....
This has nothing to do with that day but I just had to put this up. He was sleeping like this so I couldn't help but take a picture of it!!
hehe
I guess he didn't want his head to get cold! He's the funniest little thing and he always has Scott and I rolling on the floor laughing.

Happy Hump Day!!
Alyssa